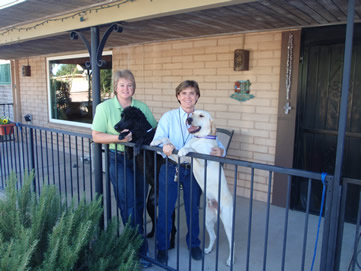 Karyn's partner Erin, owns a home near Golf Links and Stella. Erin purchased this house as a fixer-upper and designed it to be ideal for a small scale, cage-free, dog daycare and in-home pet sitting business.
Who Gets to Come?
We are very select. We only accept dogs that belong to existing or former clients of ours. We want to know the dog's owner as well as the dog.
Dogs must have a great disposition with other dogs. As in any home environment, there are times when the dogs are left together unsupervised. Our guests are not caged, so it is imperative that they get along well with each other. If your dog has aged and has not stayed with us in some time it may need to be seen in advance to be re-qualified.
We prefer that dogs 6 months of age or older are either spayed or neutered.
Our dog guests are also required to be good with other animals: our cats. We have lots of dogs come to stay with us that have never been around cats, and that's fine. We would, however, refuse a dog that has deliberately injured a cat or another dog.
Dogs must also be regularly vaccinated for kennel cough. Kennel cough is the only virus that will show up from time to time. Please be sure to vaccinate your dog at least two weeks before it comes to stay. We would also recommend that you vaccinate any senior dogs you may have at home just in case your dog would bring home a slight case of the virus.
By law, your dog is also required to have a rabies vaccine and license.
We maintain a tick-free environment. Needless to say, if your dog would bring us either ticks or fleas, that would be its last visit.
Finally, our customers have confidence in us and give us permission to manage their dogs as we see fit during their stay.
Safe Environment
The areas where your dog stays are safe and secure. The environment is temperature controlled and your dog always has access to the inside as well as the outside through a dog door. If your dog does not know how to use a dog door we will teach it.
Note: Your dog will be allowed to play continuously, and it is not uncommon for dogs to come home and sleep for days after their stay.
Feeding
We feed twice a day, and we do request that you send your dogs' food along with them. We also request that you send a little extra food rather than too little.
(Please write their name on their bag of food.)
Note: If a dog is reluctant to eat we will add something to its food to entice it, such as chicken or hamburger.
Boarding Fee: $40 per night