Karyn Garvin is no longer snake proofing dogs.



We recommend contacting Buhrke's Pet Resort for snake proofing.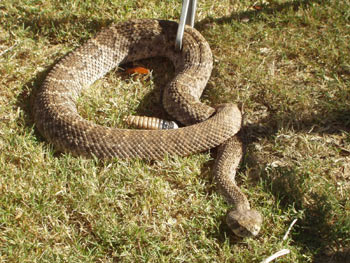 How would your dog respond if it came upon a rattlesnake?
Many people believe a dog would just naturally sense the danger and stay away. Not true! More often than not a dog's natural inquisitive nature … or prey drive will lead them right up to the snake.
Rattlesnake avoidance training is the only safe way to teach your dog to identify the look smell and sound of a rattlesnake as dangerous. The dog's new understanding that snakes are dangerous is immediate.
The rattlesnake avoidance seminar is held at Garvin's "Divine Dog" Training facility. Karyn works in conjunction with Steve Buhrke of Buhrke's Pet Resort to provide the training. She will gather everyone together prior to beginning the seminar to explain what they will be doing and to answer any questions. As a rule … Karyn is the primary handler and will handle your dog as it goes through the process.
Snake proofing seminars are held each month throughout the spring, summer and fall.
(Rattlesnakes hibernate during the winter so we take a break then too.)
Snake proofing is available for dogs of all breeds and all sizes.
We recommend that puppies be at least 5 to 6 months of age.
Two Testimonials (from the same client):
I wanted to thank you for putting on the rattlesnake avoidance training. I brought my dog in last year but since then have always wondered what she would do (even though I did bring her back for refresher and she did fine). Tonight she came through with flying colors when she alerted me to a rattlesnake on the back porch. She stayed about 5 feet away and barked until I came to see what the problem was. The snake was rattling and she didn't even go near him. She is so curious, without the training I know she would have gone right up and sniffed him. Thanks for saving my dog." – Mick
One Year Later
"Hi Karyn,I wrote you last year about my dogs and your training. I put the dogs through the training year before last then attended the refresher. The dogs, as I stated in my last letter, were saved by the training when they alerted me to a snake on the back porch. I was wondering if I should have them attend again this year because I thought, it has been a year and they haven't seen a snake for awhile, maybe they forgot. Tonight, however, I heard the familiar bark they use to tell me a snake is in the yard. I hadn't heard that particular bark for over a year, but once I did I knew exactly what was happening. I grabbed a flashlight, went to investigate and I heard the rattle. That side of the house is pitch black, no lights at all, I don't think they could've seen it. Apparently, they smelled then heard it. They stayed away from it and let me know it was there. Looks like you have the gift that keeps on giving 🙂 Thanks again so much for what you do." – Mick and Leslie
SUCCESS SAVES LIVES!
& TOGETHER WE CAN!